Graduate students in our program are involved in a number of exciting projects. Some projects are local initiatives, while others have a national or international focus. The common threads that run through them all are innovative thinking, hands-on learning, and a commitment to solving problems related to energy, technology, and policy. The descriptions below provide a few examples of projects in areas such as renewable energy development, clean transportation, and improved energy access in developing countries.
Scaling Up Renewable Energy in Humboldt County, California

Many now recognize that successful mitigation of climate change will require industrialized nations to reduce greenhouse gas (GHG) emissions by about 80% by 2050. If we are to reach this aggressive target, some places need to serve as examples by achieving substantial reductions much earlier. Because of its large endowment of renewable resources and history of progressive environmental action, Humboldt County is well positioned to be a leader in this effort.
To get the ball rolling, the Schatz Energy Research Center (SERC) partnered with the Redwood Coast Energy Authority (RCEA) to develop a strategic plan for scaling up clean energy in Humboldt County, with a goal of achieving 75% renewable energy by 2030. The analysis, which is part of the RePower Humboldt initiative, received funding from the California Energy Commission's Renewable Energy Secure Communities (RESCO) program as well as the Headwaters Fund. It involved an in-depth study of renewable resources, energy use trends, investment requirements, energy efficiency options, job creation possibilities, and relevant policies and regulations. A number of graduate students have been involved in the effort, including ETaP students Luke Scheidler, Ruben Garcia, and Adam Schumacher. More information and preliminary results are available on the SERC website. Luke Scheidler's master's thesis, available on the ETaP Students and Alumni page, is another valuable source of information.
The effort has resulted in the development of several related projects, including the Blue Lake Rancheria Biomass Energy Project, which involves installing an innovative biomass fueled combined heat and power system at the Blue Lake Rancheria. The system uses biomass fuel and a specially designed gasifier to produce a hydrogen rich synthetic gas. This gaseous fuel is purified and then used to power a 175 kW fuel cell that produces electricity and heat that are used by the Rancheria. This first-of-its-kind bioimass energy system has potential to convert wood waste into electricity at a high efficiency compared to other similarly sized systems.
Renewable Energy Micro-Grid for the Blue Lake Rancheria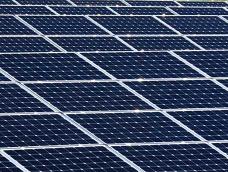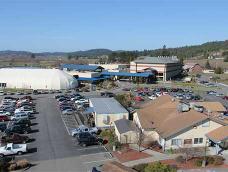 Micro-grids that are interconnected with the main electrical grid are widely viewed as an emerging technology to improve reliability of local electricity and overall grid resilience, increasing demand response and emergency power capacities, and enabling more integration of renewable energy. The Schatz Energy Research Center (SERC) is the lead for a cutting-edge effort involving the Blue Lake Rancheria Tribe, Siemens, Pacific Gas and Electric, REC Solar, and others to design and build a low-carbon, community-scale micro-grid at the Blue Lake Rancheria. The system combines a new 0.5 MW solar array, a 1 MWh battery, and a custom micro-grid controller, with the Rancheria's existing 175 kW biomass energy system, and two backup diesel generators. The micro-grid will provide power to the tribal government office building and various economic enterprises, including a hotel, casino, event center, and three restaurants. Once complete, it will allow the Rancheria, a registered Red Cross emergency shelter, to operate with reliable electricity during extended grid outages with primarily clean energy. In addition, during business-as-usual operations, the micro-grid will allow the Rancheria to generate ~50 percent of its energy needs with its own low-cost renewable power and to provide greater demand response services to the main grid. The $6.6-million project is primarily funded by the California Energy Commission, with investments and matching contributions from the other participating partners. Two graduate students are working on the project, and SERC anticipates hiring more as the project proceeds.
Biomass Energy from Forest Residues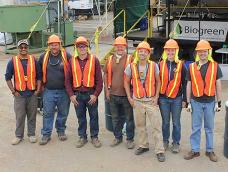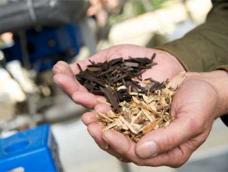 In many parts of the world, power generated from biomass has the potential to be a significant source of renewable, low-carbon energy. The challenge, however, is in making efficient and economically viable use of a distributed resource that often has relatively low energy content and value in the market. The Schatz Energy Research Center (SERC), in partnership with colleagues from the Humboldt Forestry Department and researchers and companies from around the country, is involved in the Waste to Wisdom project. This $5.9M project, which is funded by the U.S. Department of Energy, focuses in strategies to convert wood waste from the forestry sector into higher value end-products using technologies such as torrefaction, densification, and bio-char production.
The team at SERC is the project lead for tasks related to evaluating and refining the biomass energy conversion technologies. This work, which has involved participation by five graduate and undergraduate students over the past year, focuses especially on evaluating the potential for the biomass conversion technologies to operate effectively in a near-woods setting using woody biomass feedstocks. If successful, the research can contribute substantially to efforts to protect forests from wildfires and to convert wood waste into renewable energy fuels and other high value bio-energy products.
Clean Transportation in California and Beyond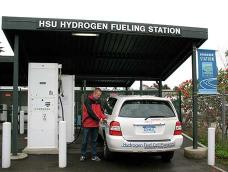 Faculty and students at Cal Poly Humboldt have been on the cutting edge of clean transportation research for over 20 years. The Schatz Energy Research Center developed the nation's first street legal hydrogen fuel cell vehicle back in 1998, and it continues to innovate through projects related to plug-in electric vehicles and hydrogen fuel cell cars. Recent work includes designing, building, and operating a hydrogen fueling station on the Humboldt campus and testing fuel cell vehicles for leading car companies. It is also working in partnership with the Redwood Coast Energy Authority on clean transportation and alternative fuel planning efforts for Northern California counties. In the context of this work, the SERC team developed an innovative simulation model that helps planners optimize investment in electric vehicle charging station infrastructure. The model has been used to create EV charging infrastructure plans in places ranging from Humboldt County, California to New Delhi, India. SERC is a member of the Northern California Center for Alternative Transportation Fuels and Advanced Vehicle Technologies (NorthCAT), which is led by the University of California, Berkeley.
Affordable Off-Grid Energy in Africa and Asia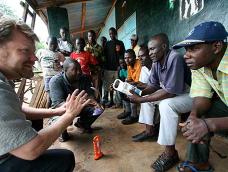 Lighting from kerosene, candles, and other fuels can be dirty, dangerous, inefficient, and expensive, but it nonetheless serves as the primary source of illumination for well over a billion people worldwide. Solar powered lamps that use light emitting diode (LED) technology have emerged as a promising substitute for fuel-based lighting in unelectrified areas of Africa, Asia, and Latin America. While LED technology can provide superior lighting services, widespread deployment depends critically on effective mechanisms to ensure quality and to enable buyers to make informed purchasing decisions.
The Schatz Energy Research Center (SERC) at Cal Poly Humboldt is a leader in efforts to increase access to good quality, affordable off-grid lighting systems in Sub Saharan Africa, South Asia, and beyond. To support widespread use of solar charged lighting and energy systems, SERC serves as technical lead for the World Bank Group's Lighting Global program. Lighting Global and its sister programs, Lighting Africa and Lighting Asia, are working to support commercial deployment of reliable and affordable lighting and energy solutions for low income people in off-grid areas of Africa and Asia. SERC manages the Lighting Global Quality Assurance Program and provides technical and field support for many additional aspects of the respective initiatives. The work includes program management, laboratory testing of products, test methods development, and field research in countries ranging from Kenya, Ethiopia, and Senegal to India and Bangladesh. SERC also provides technical support for the Global Lighting and Energy Acccess Partnership (Global LEAP), including work related to solar lighting, high efficiency appliances for off-grid applications, and rural electrification using mini-grids.
More than 15 graduate and undergraduate students at Cal Poly Humboldt have worked with Dr. Arne Jacobson and SERC staff members on these programs over the past eight years. Work by students has included laboratory testing of solar lighting products, field research, implementation of innovative awards competition for off-grid lighting systems, publication of influential articles and reports, and a number of other associated activities. See the Students and Alumni page for master's theses by ETaP students about energy access and off-grid lighting.
Smart Mini-Grids for Village Electrification in Bhutan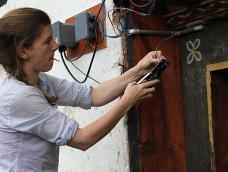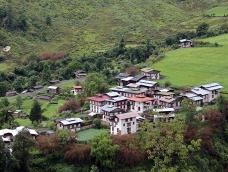 Thousands of villages worldwide are powered by isolated micro-hydroelectric systems. These units provide valuable electric service, but in many cases they suffer from a common problem: brownouts that occur during periods of peak power use. The village of Rukubji in Bhutan was no exception; most days villagers experience severe brownouts in the morning and evening due to the extensive use of rice cookers and other electric cooking appliances.
With funding from the U.S. Environmental Protection Agency's People, Prosperity, and the Planet (EPA-P3) program, students from the Renewable Energy Student Union (RESU), working together with faculty advisors and the Schatz Energy Research Center (SERC), worked to develop an innovative solution. The result is the GridShare system, which encourages users to shift use of high powered appliances to off-peak times through a combination of education, indication, and enforcement.
The first installation of GridShare technology was completed in Rukubji, Bhutan in July of 2011 through a collaboration involving RESU, SERC, the Bhutan Power Corporation, the Department of Energy of Bhutan, and the village of Rukubji. Images from the installation are available here. Initial results are promising; power quality has improved substantially in the village since the GridShare system was installed. A detailed evaluation will be carried out over the coming year. ETaP students Karma Dorji, Chhimi Dorji, Meg Harper, and Jenny Tracy played leading roles in developing and implementing the project. More information about this project and GridShare technology is available at this link.
Solar Radiation Monitoring Station (SoRMS)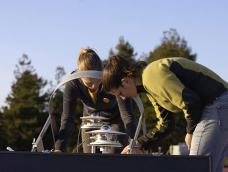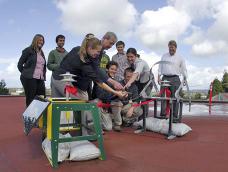 The Solar Radiation Monitoring Station (SoRMS) at Humboldt was developed under the initiative of graduate students Juliette Bohn, Andrea Allen, Ranjit Deshmukh, Peter Johnstone, and Colin Ritter. They were assisted in the effort by a number of other students from the Renewable Energy Student Union (RESU). The station is designed to collect detailed data about the solar energy resource in California's North Coast Region. It has been operated successfully by students since its inauguration in 2006.
The project's primary instruments are two Eppley brand Precision Spectral Pyranometers, which measure the intensity of solar radiation. One is configured to measure overall intensity on a horizontal surface; the other is fitted with a shadow band to collect only the diffuse (or scattered) component of the solar radiation. Combined, the two measurements enable complete characterization of the solar resource. The solar data collected by the station at Humboldt are included in the National Solar Radiation Database (NSRDB), which is managed by U.S. Department of Energy's Renewable Energy Laboratory (NREL). To view Humboldt's solar data on NREL's site, click here.
Renewable Energy System for the Rock Creek Ranch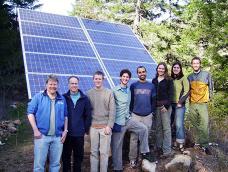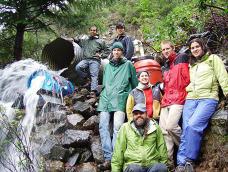 The Rock Creek Ranch is located on the South Fork of the Smith River in Northern California. It is the "field office" of the Smith River Alliance (SRA), a non-profit organization whose mission "...is to provide for the long-term protection, restoration, and stewardship of natural resources in the Smith River watershed." The Ranch is located in an off-grid area, and until 2007 power was provided with a gasoline fueled generator. In the Fall of 2006, students in the Engineering 475 class (Renewable Energy Power Systems) worked with SRA to develop a set of renewable energy system designs for the site. In the Spring, Summer, and Fall of 2007, students from the Renewable Energy Student Union (RESU) worked with the SRA and Scurfield Solar to install the system.
The renewable energy system provides power to two different buildings at the Rock Creek Ranch. During the summer months, the bulk of the energy for the system is generated by a 1.15 kW solar photovoltaic array. During the winter months, a 600 Watt micro-hydroelectric system that is driven by a seasonal stream provides most of the electricity. The gasoline generator is used occasionally as a backup source of power. The electrical energy from all three generation sources is stored in independent battery banks that are located at each of the two buildings. The system design includes a novel method of "transporting" renewable energy between the two buildings, which are separated by a distance of 700 feet, via 120 VAC lines. The development of this project provided graduate and undergraduate students with an excellent opportunity to gain hands-on experience in the design and installation of an off-grid renewable energy system. The system has operated successfully for seven years, with continuing student involvement in system upgrades and maintenance. For example, a team of graduate and undergraduate students recently worked with the Smith River Alliance to install a solar water heating system at Rock Creek Ranch.